Target enrichment by hybridization

DNA is converted into an Illumina compatible NGS-ready library:
DNA undergoes enzymatic fragmentation, end-repair and A-tailing.
Adapter ligation with consequent dual-indexing (PCR1), which is necessary for subsequent sample demultiplexing.
Next, only selected genomic regions (targets) are captured by biotinylated probes through hybridization and enriched (PCR2).
Finally, sequencing data can be uploaded via a secure web-interface to GENOVESA, ViennaLab's proprietary bioinformatic analysis software.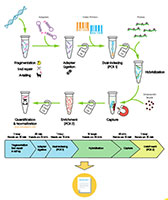 Bioinformatic analysis software: GENOVESA
The analysis of genetic NGS data can be a daunting task that often requires specialized computing skills by the user. We have developed our proprietary web-based bioinformatic analysis software – GENOVESA as an effortless solution for everyone.
GENOVESA - AT A GLANCE:
GENOVESA is intuitive and easy to use. For beginners in NGS analysis, it allows a quick and easy generation of relevant information of their NGS data, without the need of their own dedicated bioinformatic experts. On the other hand, GENOVESA allows experienced users to adjust and modify parameters, use complex filtering rules, and visually evaluate variants at the individual read level.
GENOVESA is an essential part of the ViennaLab NGS Assays and is included with every kit purchase, such as the Hereditary Cancer NGS Assay, the Somatic Mutations NGS Assay and the CES NGS Assay. GENOVESA has been successfully used in-house to accurately detect, annotate, filter, and select clinically relevant SNVs and InDels using the correct up-to-date HGVSc/p nomenclature in recent EQA evaluations.
Key features:
Uploading of fastq files through a secure web interface.
Automated processing and quality control metrics of sequencing data.
Identification and annotation of variants from up-to-date relevant databases, as well as selection of variants for the generation of a meaningful report.
ViennaLab preset filters for simplified and time-saving identification of clinically relevant variants without the need to look for the needle in the haystack.
Custom filter section for tailoring parameters to specific customer needs (e.g. maximum population frequency, minimum read depth, ClinVar pathogenicity classification).
Visual display and inspection of SNVs and InDels is possible through a seamlessly integrated viewer. CNV and structural variants (SV) analysis and visualization are available upon request.
Get a glimpse of the software interface pdf HERE .
Additionally, our bioinformatics team may be able to support you with customized analysis requests. Feel free to contact us via This email address is being protected from spambots. You need JavaScript enabled to view it. for any queries.